*February 14th 2021*
It's getting hot in Helena
It's Valentine's Day and things are heating up in Helena. If you thought we were coming in with candy hearts and sweet nothings, think again, loves.
You might be asking: "With SO MANY bad things happening, where do I even begin?"
First things first, we hear you. If you're feeling overwhelmed, here's our advice: start small! Pick one bill or issue you care about and stick with it. Next thing you know, you'll have your legislator's phone number on speed dial! Oh, and you can always share our podcast. BTW, this week's episode features a conversation on voting rights with Keaton Sunchild, the Political Director at Western Native Voice.
When you're done, treat yourself to a hot bath, some chocolate covered strawberries, or a romantic moonlit walk. You deserve it.
Don't go breaking my heart (with voter suppression)
We'd really like to dump these efforts to make it harder for folks to register to vote and cast their ballots. HB176, the bill to end same-day voter registration, will have a hearing tomorrow morning. Send a message to the Senate State Admin Committee ASAP, urging them to vote NO. SB169, which would enact stricter photo ID requirements in order to cast a ballot, is headed to the House. Write your representatives and ask them to vote NO on SB169.
Time to tell these unfaithful bills that we just don't have the same values… "It's not me, it's you." We'll all be better off without them.
Tribal sovereignty: not up for debate
Let's first acknowledge that we are on stolen territory that belongs to Indigenous Nations who have cared for this land for generations. Tribal Nations are sovereign, meaning they have the right to self-governance, and oversee their own land and resources. They have a unique government-to-government relationship with the federal government.
HB241, sponsored by Rep. Joe Read of Ronan, would have allowed non-tribal citizens to hunt on fee lands within the boundaries of an Indian Reservation. The bill didn't pass committee — but it's just one example of the harmful overreach into tribal affairs that Native Nations have been fighting for decades.
Rep. Tyson Running Wolf of Browning called the bill the "biggest attack on tribal sovereignty led by the state in 25 years." Legislation like this continues to erode trust between tribes and state agencies, and HB241 would have encountered immediate legal challenges, costing the state hundreds of thousands to litigate. Needless to say, Rep. Read consulted neither the Tribes nor the American Indian Caucus on the bill.
Last stop for concealed carry: the Governor's desk
HB102, which would allow concealed carry on college campuses (#YIKES), is headed to the Governor's desk. After a bill passes both the House and Senate, Governor Gianforte has 10 days to sign, veto, or do nothing. If he signs or does nothing, the bill becomes law. Unfortunately, in HB102's case, all signs point to a stamp of approval.
HB102's attempt to override the Board of Regents (who have complete authority over the Montana University System) raises constitutional questions. It will likely take a trip to the courts.
The fight for suicide prevention and anti-gun violence continues. Please consider donating to some of the following organizations leading the way on this important work:
National Suicide Prevention Hotline: 1-800-273-TALK
A bad bill crushed by the power of love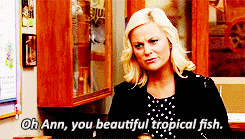 Consider this our love letter to everyone who took action on a wildly hurtful piece of legislation that was withdrawn just minutes before its hearing last week.
SB195, sponsored by Sen. Tom McGillvray of Billings, aimed to explicitly exclude incarcerated people, including minors, from the protections of the Montana Human Rights Act. This means if an incarcerated person was denied access to a wheelchair-accessible cell, a sign language interpreter, hormonal medication, religious items, or any other accommodations that are vital to their well-being, this bill would prevent them from bringing discrimination lawsuits against the Department of Corrections. Seriously, WTF.
This last-minute plot twist was likely because of the sheer number of conscientious Montanans who reached out to our legislators and stood up for human rights. Thanks, you beautiful tropical fish. We've got a crush on y'all.
Speaking of bills we thought we'd broken up with…
Remember HB113, the super-gross bill that aimed to prevent trans and gender-nonconforming minors from receiving gender-affirming healthcare? The bill that garnered overwhelming opposition from Montanans, and that died on the House floor?
Well, folks, it's time for round two of HB113. Rep. Jennifer Carlson of Manhattan has introduced a bill with the misleading title "provide for youth health protection." This bill is similar to HB113 in that it would punish medical providers from providing gender affirming healthcare. We've said it before and we'll say it again — parents, patients, and medical professionals, NOT politicians, should decide what medical care is in the best interest of any particular young person. We'll be watching this bill extremely closely and would encourage you to follow us our Instagram for updates.
Villain & Hero of the Week
Love is in the air, and so are tax cuts for the wealthy! If you got your sweetheart a "tax the rich" T-shirt for Valentine's Day, perfect timing. SB159, a priority of the Governor and carried by Sen. Greg Hertz of Polson, is a tax cut bill — which might sound cool, but guess what? It only benefits the wealthy. We have our Villain of the Week to thank for that. Womp womp.
Let's crunch some numbers: The wealthiest 20% of Montanans would be getting a tax cut of at least $1,400. Meanwhile, if you make less than $34,000 a year, you would get $0-$12 in tax cuts. You might be able to buy yourself a box of chocolates off the sale rack!!! Kansas already tested out a similar "experiment" and it went very very poorly.
SB159 would result in a $30 million loss to the state's revenue annually, taking away from crucial services that many Montanans rely on. We can think of approximately 1,000 better ways to spend this money: affordable tuition, access to mental health services, a free dog for every Montanan… the list goes on. Take it from us, there's nothing more romantic than reaching out to your senators ASAP to tell them to vote NO on SB159!
After you've contacted your legislators, sign this petition to stay engaged with the budget process this session — our legislators need to hear from US that cutting the budget during a pandemic is irresponsible.
Rep. Hertz, we've composed this poem just for you:
There once was a Senator called Hertz
Whose ideas were simply the Worst
He'd steal from the poor
To give the rich more
And leave his constituents in the dirt!
This Valentine's Day, we're sending roses to Sen. Shane Morigeau of Missoula! Sen. Morigeau sponsored SB146, which would replace Columbus Day with Indigenous Peoples' Day as an official state holiday.
At the hearing, Sen. Morigeau described his experience with Columbus Day as a member of the Confederated Salish and Kootenai Tribes. "I dread the annual celebration of a man who murdered and exterminated innocent Native people," he told the committee. Rather than idealize a violent colonizer, Indigenous Peoples' Day honors the unique stories and cultures of Montana tribes. It's a first step toward reckoning with the truth of our state's history.
Sen. Morigeau's powerful remarks reflected a years-long effort to establish Indigenous Peoples' Day. The Senate State Administration Committee hasn't yet voted on SB146. You still have time to slip them a note in support of Indigenous Peoples' Day!
We appreciate Sen. Morigeau's commitment to a future where Indigenous Peoples are uplifted, appreciated, and celebrated.
This one goes out to Sen. Morigeau:
Roses are red
The ocean is blue
America has history
Before 1492
—
And with that, we're off! Wishing you a very happy Palentine's, Galentine's, and Valentine's Day. Drop us a line at this email if you have questions (or rom-com recommendations).